A View From The Top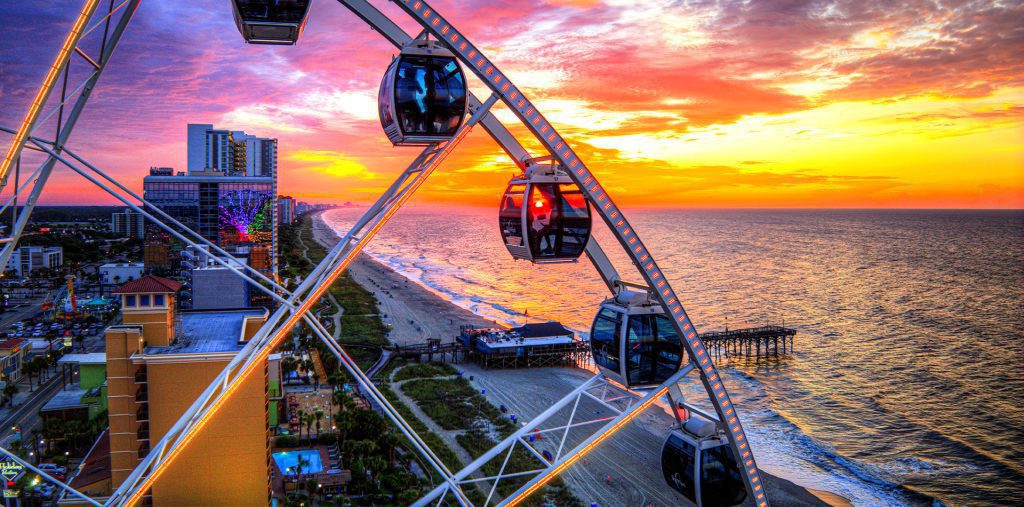 There is nothing quite like the magnificent view of the Myrtle Beach SkyWheel. From your seat on this 187-foot-tall Ferris Wheel, you get an incredible view of the sea and sky above. With 1 million LED lights aglow at night, it's hard to miss as it towers over the Myrtle Beach Boardwalk. There is no better place to see Myrtle Beach from above than from the seat within this majestic attraction!
While the SkyWheel itself has tons of amazing features, the best overall has to be the view. From sandy shorelines to sunny skies, you're bound to have the full experience from the top. If you're planning on incorporating the SkyWheel into your vacation (or weekend trip), here's a little snippet of what a view from the top could look like.
What You'll See From The Top
The Beautiful Shoreline
The beach is one of Myrtle Beach's most famous attractions. The 60 miles of coastline along the Atlantic Ocean draws millions of visitors each year who come for our beautiful beaches, warm waves, and sunshine. From 180 feet in the air, the SkyWheel gives you a beautiful view for miles over the water. From parasailing guests to the occasional sea creature breaching the surface. The Myrtle Beach shoreline is always a sight to see.
Tons of Restaurants To Try
It's no secret that Myrtle Beach is home to tons of unique restaurants, family favorites, and delicious food. Now imagine viewing that all at once from the top of the SkyWheel! At 180 feet in the air, you can see it all! From people watching as they walk around the boardwalk, to spotting your next meal, the top of the SkyWheel is a great place to see everything around you, all at once.
You can even wave "hello" to our neighbors next door at LandShark Bar & Grill. LandShark Bar & Grill serves fresh, delicious, and unique dishes inspired by the great beach joints on the Atlantic coast. The cuisine is American beach food with a fresh coastal twist, cold LandShark brew, and fabulous frozen concoctions.
Sunrise to Sunset
Planning to watch the sunset from the shore? How about doing it eighteen stories in the air? A view from the top of the SkyWheel offers a picture-perfect experience to watch the sunset. Get a little romantic with perfectly comfortable gondolas, room to relax, and a sight to see!
Take A Ride On The SkyWheel
If you're planning your sensory-friendly vacation, the SkyWheel is a unique option for your whole family! You can purchase your tickets online at any time. You can even reserve your VIP Experience with first-class service at new heights. Come experience the height of Myrtle Beach attractions at SkyWheel. Question? Give us a call at 843.839.9200