Top Golf Courses in Myrtle Beach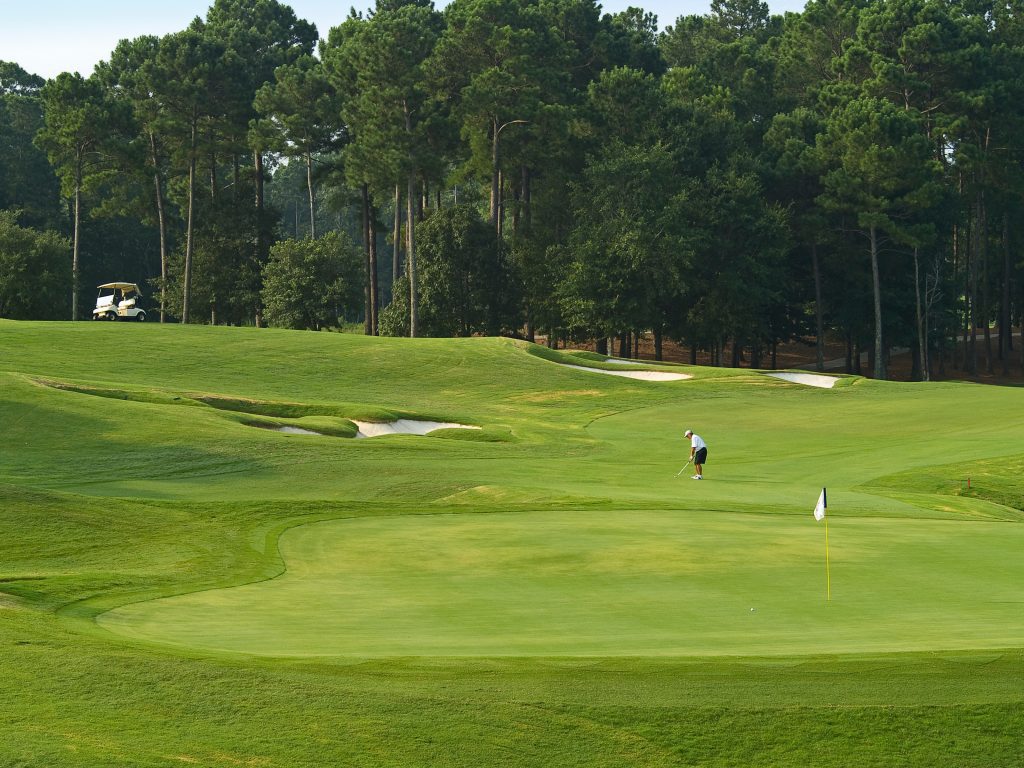 If you love golf, Myrtle Beach is the place for you. Golfers come from all over the country and the world to play in our wonderful area. Whether you want an inland course or a coastal course, you're sure to find a location that suits your needs. The Grand Strand features more than 90 premier golf courses and because this area is known as "the Golf Capital of the World" – there really isn't a better place to plan your next gold experience! Planning your next golf vacation? Here are some of the top golf courses in Myrtle Beach.
TOP COURSES ON THE GRAND STRAND
1. THE DUNES GOLF & BEACH CLUB
Dunes Golf and Beach Club is a crown jewel of Myrtle Beach, SC. The 5-star rated course features breathtaking ocean views and vivid fairways. The PGA Senior Tour and USGA Women's Open have played there, so whether you are a seasoned pro or a first-timer, this course will challenge even the most seasoned players!
On top of a state-of-the-art course, the Dunes also offers space for a tennis facility with nationally ranked tennis professionals, an ever-evolving culinary program, private pool and beach access, and their upcoming oceanfront wedding venue.
2. CALEDONIA GOLF & FISH CLUB
Caledonia Golf & Fish Club is known for its exquisite course and clubhouse, but it also has a historic appeal that you won't soon forget. This course is known as a famous wedding destination in the area – so you know it's not just a great course, it's a great experience overall.
This course makes a statement as soon as you drive in. The entryways are lined with 100-year-old oak trees, an Antebellum-style clubhouse, and stunning landscaping for a spectacular day of golf. Caledonia Golf's 18-hole course boasts large, creative greens surrounded by ponds, bunkers, and streams. If you're looking for a challenging game, this is a great choice!
3. ARROWHEAD COUNTRY CLUB
Known for their quality, service, and prestige, it is no wonder that Arrowhead Country Club has been ranked "Best on the Beach" for four consecutive years by golfers and locals! The Grand Strand's premier 27-hole golf complex offers Bermuda grass fairways and a stunning landscape, with great conditions year-round. It also features a chipping and putting area, a driving range, bar and grill, pro-shop, free-range balls, and all-day tee times.
This golf course is surely not one to miss on your Myrtle Beach golf vacation.
4. TPC MYRTLE BEACH
Set in the heart of Myrtle Beach, TPC Myrtle Beach is one of the most popular courses in South Carolina. Designed by Tom Fazio, it's perfect for players who want to challenge themselves while enjoying a beautiful course with excellent facilities at every turn. Even the professionals come to play at this 5-star facility. TPC Myrtle Beach is continuously ranked as one of the top courses in America thanks to Golf Digest and even hosted an LPGA Tour event in 2018. Come see why so many golfers choose this course over others on the Grand Strand.
5. TRUE BLUE GOLF CLUB
Caledonia is the sister course to True Blue, both designed by Mike Stranz, who is known for his exclusive designs all across the state. Caledonia and True Blue have very different design styles. Where Caledonia is tight, True Blue is known for its wide, open fairways, drive-through bunkers, and beautiful scenery. Both courses are a great experience for every skill level!
6. PRESTWICK COUNTRY CLUB
Need a place to unwind after your golf game? Look no further than Prestwick Country Club, one of Myrtle Beach's best-kept secrets. Prestwick Country Club is a stunning example of Scottish-inspired architecture. Focused on golfers of all abilities, this 18-hole course features elevated greens and small creeks and lakes throughout so that you'll enjoy the perfect round no matter your skill level. Then, take a minute to enjoy the stunning clubhouse – the ideal spot for a post-round drink at their own 19th hole.
7. BAREFOOT RESORT & GOLF – DYE COURSE
The Barefoot Resort & Golf Dye Course is one of four golf courses at Barefoot Resort and Golf. Big Break Myrtle Beach also featured it on their popular television show. This plays a part in why it's one of the most unique and sought-after tee times here in Myrtle Beach. With beautiful fairways, stunning greens, and water hazards to add a degree of difficulty, you'll love playing this course any time of year.
Not to mention, this course is also rated highly by Golf Digest, admiring the versatility of the course and its ability to be suitable for any skill level. They've even added it to their list of Top 100 Greatest Public Golf Courses.
Explore the Skies After The Greens
After a trip to one of the top golf courses in Myrtle Beach, now it's time to relax. If you're planning your Myrtle Beach vacation, the SkyWheel is a unique option for your whole family! You can purchase your tickets online at any time. You can even reserve your VIP Experience with first-class service at new heights. Come experience the height of Myrtle Beach attractions at SkyWheel. Question? Give us a call at 843.839.9200