What To Do On Your Day In Myrtle Beach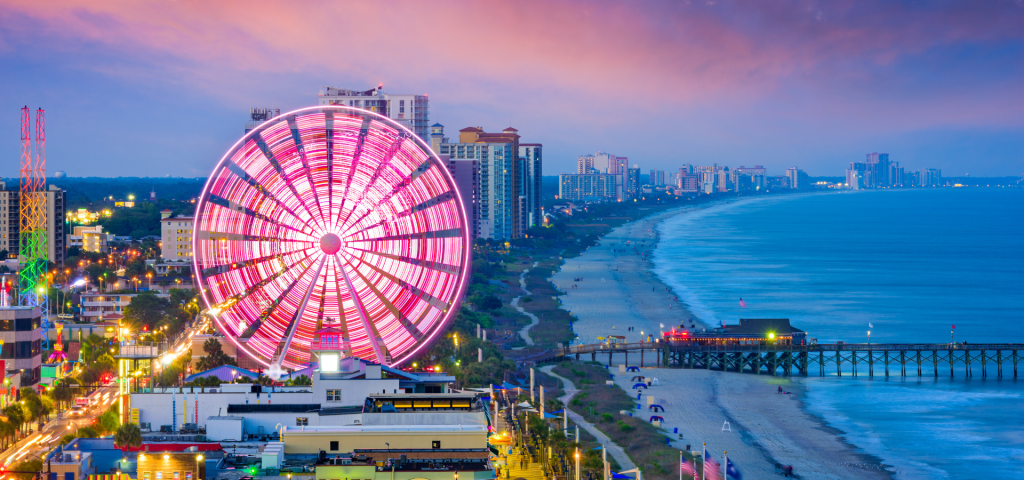 Myrtle Beach is the perfect place to come and relax. But what some might not realize is that even just one day in Myrtle Beach can be enough time to feel like your old self again! If you have a short window of time, but still want to get away from the stresses of daily life, Myrtle Beach has the attractions that will make it happen. With so much to choose from, here's some options on what to do on your day in Myrtle Beach.
Morning Adventures
Hit The Beach
The Carolina shore is a great place to go for a family vacation. The 60 mile long sandy beaches are great for swimming and playing, and there are a variety of water sports available in the area. Some areas offer opportunities for Jet Skiing, deep-sea fishing, and more! Or just enjoy a day in the sun with your loved ones.
Enjoy a Great Breakfast
Good food brings good memories. There are tons of options for a delicious breakfast to start your morning in Myrtle Beach, like Croissants Bistro & Bakery located just a few miles from the shore. With two locations serving breakfast, brunch, and lunch, you can find amazing dishes for any taste. Made from fresh ingredients and house-made sourdough and croissants, it's the best place in town to get your morning started right.
Midday Experiences
Broadway at the Beach
Broadway at the Beach features over 350 acres of national brands, shops, and restaurants that encompass a family-friendly vibe. The entertainment district is home to beautiful landscaping, attractions, and tons of places to grab souvenirs for the rest of the family. From an interactive science exhibit to escape rooms, speedboats, and more, Broadway is your one-stop place for entertainment in Myrtle Beach.
Ripley's Aquarium
Located in Broadway, Ripley's Aquarium is a must-see spot for visitors of all ages! You'll be transported to the depths of the ocean to discover colorful sea creatures like fish and sharks, who are just waiting for you to interact with them. Explore everything from bizarre and rare creatures to the cutest penguins you've ever seen. A great place to learn and experience the ocean's wonders indoors. With tons of activities for kids too, this aquarium is an experience to behold on any vacation to Myrtle Beach.
Mini Golf
Not too sure what to do on your day in Myrtle Beach? Did you know there are over 50 miniature golf courses in Myrtle alone? With tons of different themes to choose from like prehistoric adventures with dinosaurs, to capturing the gold with pirates, mini golf courses are a must when visiting Myrtle Beach.
Evening Events
Catch a Game
Show your spirit at a Myrtle Beach minor league baseball game! Home of the Pelicans, TicketReturn.com Field is not far from downtown Myrtle Beach. Enjoy a different specialty night every day of the week from $2 drinks to fireworks. A great option for sport-lovers and tons of fun for the whole family. Check out their schedule to see if any games fall in your vacation time.
Dinner Time
With so many amazing restaurants to choose from, enjoy incredible meals for all tastes. From southern cooking to upscale steakhouses, there is a restaurant for every taste bud around Myrtle Beach. Some are find right on the sure! Like Landshark Bar & Grill. Their menu features fresh fish and seafood, chicken dishes, burgers, sandwiches, appetizers and salads. Enjoy our friendly staffs' hospitality while you listen to your favorite beach tunes from our live entertainment.
A Perfect End
Skywheel
After a long day, end it with a sight to see! End your day on the beach with a ride on SkyWheel Myrtle Beach. Located at Oceanfront Boardwalk and Promenade, this observation wheel provides guests with stunning views of the coast as they sit in climate controlled, private enclosed gondolas that slowly rotate above the Atlantic Ocean. You'll love watching the sun set on the beautiful waters from high in the sky. The perfect end to a perfect day.
Want to reserve your seat at the SkyWheel? You can purchase your tickets online for any time. You can even reserve your VIP Experience with first-class service at new heights. Come experience the height of Myrtle Beach attractions at SkyWheel. Question? Give us a call at 843.839.9200